Awards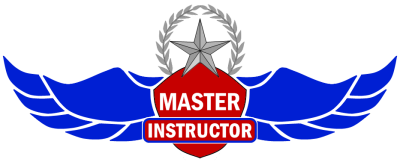 The Master Instructor designation is the only industry professional accreditation recognized by the Federal Aviation Administration (FAA). It is earned by candidates through a rigorous process of continuing professional activity and peer review. Much like a flight instructor's certificate, it must be renewed biennially. This process parallels the continuing education regimen used by other professionals to enhance their knowledge base while increasing their professionalism. Simply put, the Master Flight Instructor designation is a means by which to identify those outstanding aviation educators, those "Teachers of Flight," who have demonstrated an ongoing commitment to excellence, professional growth, and service to the aviation community. Fewer than 800 flight instructors worldwide have achieved this distinction thus far. In the words of former FAA Administrator Marion Blakey, "The Master Instructor accreditation singles out the best that the right seat has to offer." In July 1999, I was designated a "Master Certified Flight Instructor"(MCFI) and in August 2009, I earned the "Master Instructor Emeritus" (MIE) designation becoming the seventh flight instructor worldwide to do so.
A flight instructor earns the FAA's prestigious and distinctive gold seal
on their flight instructor certificate by demonstrating a high level of dedication and successful student training. The instructor must have trained at least 10 candidates during the previous 24 months for any pilot rating with at least 80% passing their practical test on the first try. The flight instructor must also have an Advanced &/or Instrument Ground Instructor rating. I became a "Gold Seal Flight Instructor" in September of 1999. Fewer than 400 flight instructors worldwide have earned both the Gold Seal and Master Instructor designations.
For over 40 years, the General Aviation Awards Program and the FAA have recognized a small group of aviation professionals in the fields of flight instruction, aviation maintenance, avionics and safety for their contributions to aviation safety and education. This awards program is a cooperative effort between the FAA and a dozen industry sponsors. The selection process begins at local Flight Standards District Offices (FSDO) and then moves on to the eight regional FAA offices. Panels of aviation professionals within the various fields then select national winners from the pool of regional awardees. In December 2005, I was selected as the FAA's 2006 "Certified Flight Instructor of the Year" for both the Windsor Locks (Connecticut) District and the Eastern Region (Maine - Virginia).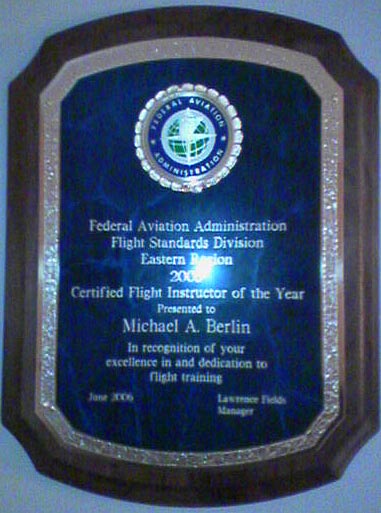 Congrats to Mike Berlin!
Congrats to Premier Flight Center!